Sewing up a small thing is always refreshing. Recently I was gifted a new gadget and as excited I was to try it out, one of the first thoughts that ran through my mind was "I get to make a new case!".
Hand pieced hexagons came to mind. I'd been wanting to give this type of piecing a try for ages..(since my sister made a quilt like this some 10 years ago!). And here was the perfect small project to get me going.
These little hexies go together fairly quick and it is so nice to see the little pile grow. Once I had the length of strip I needed I simply machine appliqued it to a strip of pink linen.
You know what comes next....layering and then some hand-quilting. One simple trip around the hexi strip was all I did to keep it simple.
Then a liner and button closure were added to complete the project. So simple but useful. Just the kind of project I most enjoy!
Even though it has a sturdy pink case (which was also part of the gift) I felt that it needed a softer and somewhat prettier carrier. I'm loving this little project and even though the tablet does not stay in its case for very long each day, I still think it was worth the effort to make this little cutie!
And once again I am on a mission to make a few more small projects. In the midst of a large project I think this is the perfect way to stay motivated to keep going!
*Edited to add: I'm linking up with Fabric Tuesday! Its been awhile since I've been and I can't wait to see some of the inspiration that is flowing over there!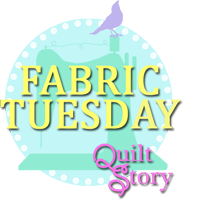 Have you made anything small? I'd love to see it! I hope you each have a wonderful week! More soon!
So then, just as you received Christ Jesus as Lord, continue to live your lives in him,
rooted and built up in him, strengthened in the faith as you were taught, and overflowing with thankfulness. ~Colossians 2:6-7
love, Lisa