"...the key to success is preparation."
Heidi
said that on a post regarding the Friday Night Sew In. It is the truth! I know from experience that having a project ready to go makes all the difference in how much I accomplish during this sewing time or any sewing time for that matter!
What I had in mind was a couple of pincushions. I prepped fabric for a granny square and I had the parts already cut and mostly sewn up for another Buttercup pincushion. The hand sewing/putting together actually took me some time on Saturday to finish but all in all, I consider it a successful night of sewing as both are now done!
For the Buttercup Pincushion I changed a couple of things up this time around. Well, really I just omitted a step...I did not stitch around the turned leaves or petals. I like how it looks on this one but in the future, I think I'll definitely add the stitching.
I just love that little strawberry print! I placed it in a little cup that I bought at a garage sale with this very purpose in mind. And it fit!
Also on my list for sewing was another granny square project and this one was easy, quick and fun!
Plus, I got to use up some very small scraps I've had around forever. That was nice.
And then I found the perfect trim and button. I don't have a picture of the before, but trust me, the trim and button make it much cuter!
That was it. I finished the projects I had intended and it was a great time to relax and sew. I'm eagerly awaiting another FNSI!
*Edited to add links to
JAQS Made by Me Linky
and
Fabric Tuesday
! Lots of fun stuff over there.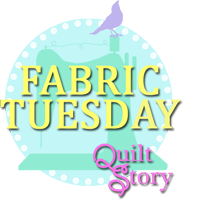 I'm off to put together a dresden now. Have a wonderful week!
The fear of the Lord is the beginning of knowledge...~ Proverbs 1:7
love, Lisa