Hello! Wow, is it ever starting to warm up here! Spring has definitely sprung and all I want to do is soak it up. How's the weather for you?
I had a burst of sewing a couple of weeks ago and I made this little table topper which can also be a mini wall hanging.
It is slightly different from the pattern for
a table runner by Sherri McConnell
. I made it square for this little table and so it could be hung later. I used a 2.5" Moda mini charm pack called Printemps by 3Sisters and some Kona Bone and finished with a binding I had on hand.
This was fun because it only took a couple of hours. Currently it sits on the table in the entry.
Since last quarter of the Finish Along went so well for me, I thought I would try it again. This time I am going to be a bit more ambitious. First quarter I only had two items that I added to my list but for this second quarter I'm going for four!
1. Farmers Wife. I'm thinking I will just use the blocks I have currently made and then if I need a few more I'll just make them really quick. This has been a WIP for far too long.
2. Bear's Paws and 7-grid chain for Chris. I made one block almost 2 years ago. After a bit more fabric arrives I will have the pieces all cut up and ready to sew.
3. Trip Around The World. I think this will end up being a center and I will add lots of borders to it.
4. This ripple that I started about 5(?) years ago. Having this as a WIP still is just embarrassing!
*Edited to add a 5th item!
5. Finish this embroidery that was started as a Valentine project. Once the embroidery is complete I don't know what to do with it, though!
That is my list and I'm going to do my very best to finish these projects! I think I can...I think I can...
Linking up my little mini to
Fabric Tuesday
! And my list to the
Finish Along at The Littlest Thistle
! Enjoy the day and God Bless!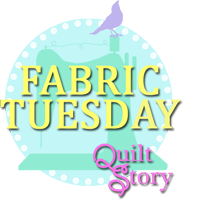 There is nothing that enters a man from outside which can defile him; but the things which come out of him, those are the things that defile a man. ~Mark 7:15 NKJV
love, Lisa